HOME / PRODUCT / Heavy duty lathe / 24-30
2480
HEAVY DUTY LATHE (15HP Main motor; spindle bore105mm 4-1/8inch)
Model: 2480, 24120, 24160, 3080, 30120, 30160
FEATURES:
˙4-1/8in (105mm) Spindle bore; D1-11 camlock spindle nose; 3-bearing spindle support.
˙18 Spindle speeds, 10-1200 rpm, with electro-magnetic brake.
˙Electro-magnetic clutch mounted in Headstock, for spindle speed changed without stopping motor.
˙Automatic forced lubrication in headstock is moved by a direct motor drive lubrication gear pump, and oil tank is equipped in the leg of machine to minimize the cooling of oil.
˙Heavy duty geared head; hardened and ground gears.
˙15HP Main spindle motor.
˙Quick-change universal gearbox for inch, metric, DP, MP, threading, and multiple thread, all function without any change gears.
˙Four-way rapid carriage movement.
˙Automatic lubrication in saddle and apron assembly.
˙Adjustable overload clutch in apron to ensure proper cutting load.
˙2 speeds tailstock barrel.
˙19in. (485mm) wide bed ways, induction hardened and ground.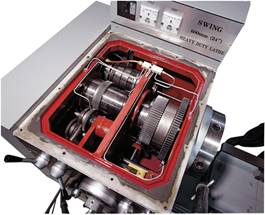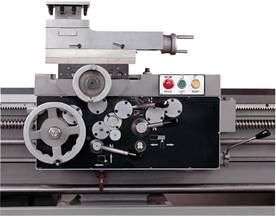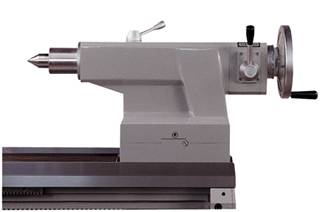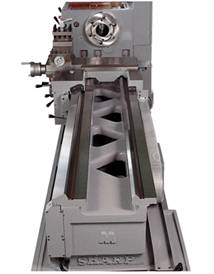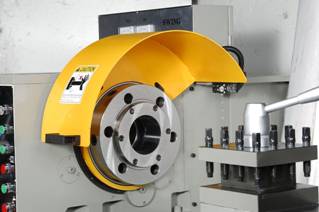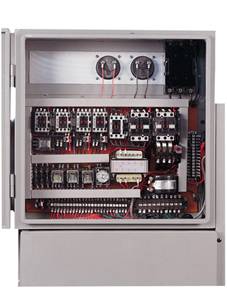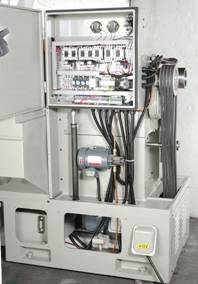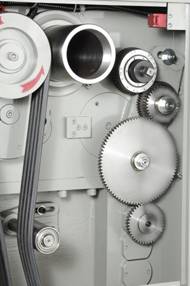 特點
1. 離合器車床頭設計,適合用於大型重覆性高的加工零件
2. 床頭孔徑4"105mm採用TIMKEN滾柱軸承,三點支撐,增強重切削力量
3. 主軸採用電磁剎車,加快剎車反應時間,減少機械式剎車所產生的慣性
4. 床頭與齒輪箱裝有自動循環潤滑系統,幫浦搭配潤滑油箱,加強機構潤滑,降低床頭溫低增加散熱功能
5. 齒輪箱為快速變換的萬能齒輪箱,公制,英制,模數及徑結牙都無須更換交換齒輪
6. 車牙範圍廣泛,搭配把手可輕鬆變換
7. 多頭牙也可以輕易透過手把切換直接車削
8. 床裙安裝有四方向的快送馬達系統,馬達裝有離合器,當發生碰撞時,會立即反應保護機構
9. 自動進刀裝有換向拉桿,方便使用者操做
10. 床裙內部有過負載保護裝置,當加工動作錯誤或遭到力量阻擋,離合器會自動跳脫,保護使用者安全
11. 床裙與床鞍裝有四段自動潤滑機構,當操作者使時,潤滑系統會自動打油潤滑機構
12. 尾座裝有兩段速度進給,方便使用者操作
13. 加寬床軌19"485mm,65˚的床軌設計,增加重切削穩定性
14. Y-△電氣用於重負載車床,啟動電流小,減輕工廠設備與馬達瞬間啟動的負載,降低跳電頻率。
1. The clutch headstock is suitable for big and repeatability processing parts.
2. The spindle bore is 105mm(4"), uses Timken roller bearings, 3-point support, make the ability of heavy-cutting stronger.
3. The spindle bore uses Electro Magnetic brake. Speed up the reaction time of brake, cut the inertia by mechanical brake.
4. We have Automatic lubrication system & Tank on the headstock and gearbox. The pump with lubricating oil tank can strengthen the lubrication, lower the temperature and increase the heat dissipation.
5. The Univeral gear box with DP & MP thread need to change the exchange gear.
6. A wide ragne of threading can be easily change by the handle
7. The multiple theading can cutting directly by the handle switching.
8. 4 way Rapid Traverse system can protect mechanism if collision happened.
9. The steering rod of auto feed make operatoer easy to use.
10. The Overload safety protection inside the apron will protect safety of operators. The cluth will automatically cut off when wrongly processing or block.
11. The Automatic lubrication system & Tank in the apron and cross slide can automatically lubricate when operating.
12. 2 Speeds feed Talistock makes easily operation.
13. The bed rails 485 mm(19"), 65˚ makes more stability of heavy cutting.
14. Y-△ has small start-up current, can ease the burden of equipment and motor instant start.



BRIEF SPECIFICATION

MODEL

2480

24120

24160

3080

30120

30160

NOMINAL SIZE

Swing over Bed

610mm 24in

760mm 30in

Swing over Cross Slide

350mm 13-3/4in

500mm 19-3/4in

Height of Center

305mm 12in

380mm 15in

Distance Between Centers

2033mm 80in

3050mm 120in

4050mm 160in

2033mm 80in

3050mm 120in

4050mm 160in

BED

Width of Bedways

485mm 19in

Total Length of Bed

3320mm130in

4380mm 172in

5470mm 215in

3320mm 130in

4380mm 172in

5470mm 215in

Swing over Gap

820mm 32-1/4in

970mm 38-1/4in

Length of gap

515mm 20-1/4in

Width in front of face plate

340mm 13-3/8in

SPINDLE

Spindle nose mounting

D1-11 CAMLOCK

Spindle bore

105mm 4-1/8in

Taper of spindle bore

M.T.#5 (with center sleeve)

Number of spindle speeds

18 steps (Forwarded & Reversed by magnetic clutch control)

Range of spindle speeds

10-1200 R.P.M. (with Magnetic brake)

TOOL SLIDE

Total travel of cross slide

375mm 14-3/4in

Total travel of top slide

225mm 9in

Max. size cutting tool

32mm 1-1/8in

TAIL STOCK

Total travel of tailstock barrel

195mm 6-5/8in

Taper in tailstock barrel

M.T.#5

Diameter of barrel

80mm 3-1/8in

THREADS

Lead screw diameter & pitch

Dia. 38mm Pitch 12mm 2 T.P.I.

Inch threads

1/4-84 TPI (60)

Metric pitches

0.2-112mm(60)

Diametral pitches

1-240 D.P.(55)

Module pitches

0.05-28 M.P.(55)

FEEDS

Feed rod diameter

38mm 1-1/2in

Range of longitudinal feeds

0.040-5.000mm/rev. 0.0015-0.20 in/rev.(40)

Range of cross feeds

0.015-4.000mm/rev. 0.0006-0.15 in/rev.

MOTOR

Main spindle motor

15HP 11kw

Coolant pump motor

1/8HP 0.1kw

WEIGHT

Machine net weight

3500kgs

4000kgs

4500kgs

3800kgs

4300kgs

4800kgs
We reverse the right to modify and improve our products.